Course details
【Thigh thick samgyeopsal 6 items + drunk full 2 ​​hours enjoyment course】 Reservation award 4,100 yen ⇒ now 3,600 yen!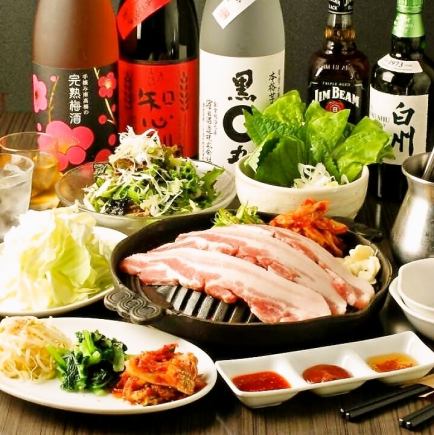 By using a coupon3600 yen
tax included
All-you-can-drink available

All you can drink menu (LO: 30 minutes before the end)
Available days for reservation

Monday - Sunday - Public holidays - Holidays
The secret of the taste of our specialty Samgyeopsal is three special sauces.There are three rows of rose meat, kimchi, omega, sauce, white hair onion, sesame leafy set and eaten with full volume.Booking award Fixed price 3,980 yen ⇒ now 3,600 yen
Course menu
【Course content】
1. Extrude
2. Today's whimsical salad
3. Assorted homemade Namul
4. Great popularity! Wall thickness! "Samgyeopsal"
5. W Cheese Kojimi
6. Rice
★ All-you-can-drink 2 hours included (30 minutes before LO)
All-you-can-drink menu
·sour
· Lemon Sour, Big Peak Sour, Grapefruit Sour, Sequiner Sour, Yuzu Honey Sour, Mango Sour, Calpis Sour, Oolong High, Green Tea High, Jasmine High
·whiskey
· Angle high ball, angular high ball dark eyes, honey lemon high ball, aloe high ball, giant peak high ball, cork high ball, ginger high ball
· Makgeoli
· Soul Makgeolygrass, JINRO Makgeolgrass, Makgeol Beer, Giant Peak McColli, Calpis Makgeolli, Mango Makgeolli, Aloe Makgeolli, Apple Makgeolli
·Cocktail
· Cassis soda, cassis orange, cassis grapefruit, cassis oolong, fuzzy navel, peach oolong, campari orange, campari grapefruit
·Cocktail
· Apellor orange, apelol grapefruit, Malibu Orange, Malibu coke, Vodka tonic, Gin tonic, Moscow, screw driver, Red eye, Shandygaaf
·Soft drink
· Oolong tea, green tea, Jasmine tea, Pepsi cola, ginger ale, orange juice, grapefruit juice, calpis, tomato juice
· Shochu
· Wanko Glass (Wheat Shochu), Nanko Glass (Potato Shochu)
·Plum wine
Minami Takashi 梅 酒
· Others
· Japanese sake rice ball soup bamboo shoot "plush", beer gold wheat, California wine glass (red or white), Rossi rock (red or white)
Coupons that can be used with this course
2018/11/12 update